Less than two years to the 2023 presidential election, political stalwarts from the Peoples Democratic Party (PDP) on Saturday turned the party 2021 elective national convention to campaign ground.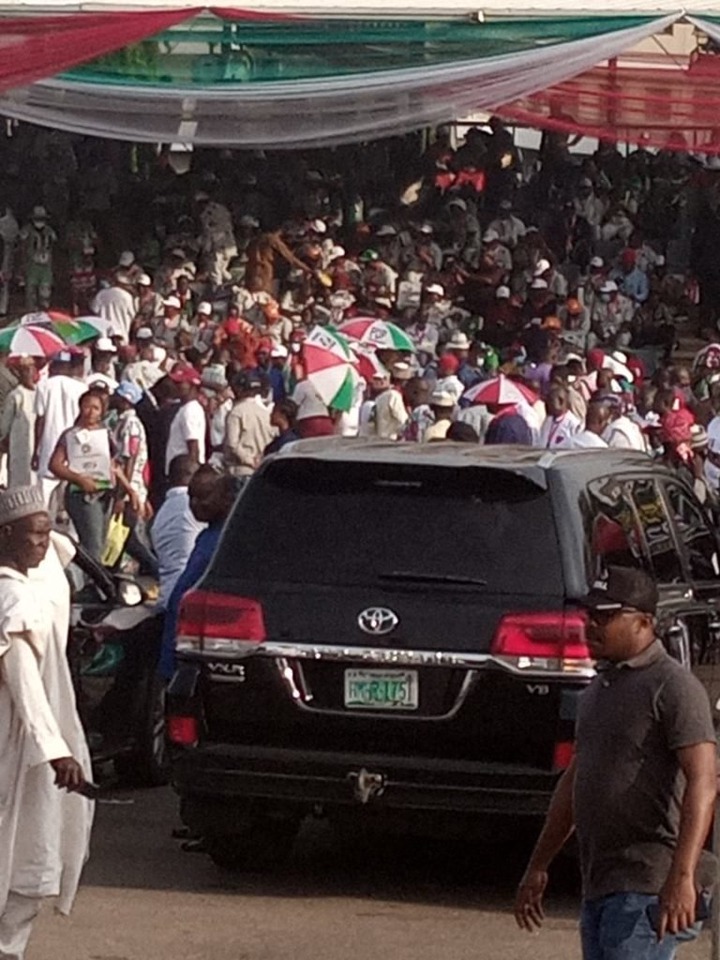 Supporters of former Vice President, Atiku Abubakar, former President of the Senate, Bukola Saraki, former Kano state governor, Musa Rabiu Kwakwanso, Bauchi state governor, Bala Mohammed and Sokoto state governor, Aminu Tambuwal turned the venue of the convention to a carnival ground, displaying banners of various sizes for presidential position.
The supporters, who stormed the venue of the convention, were beautifully dressed in colourful attire, carried posters of their preferred candidates for the 2023 presidential election.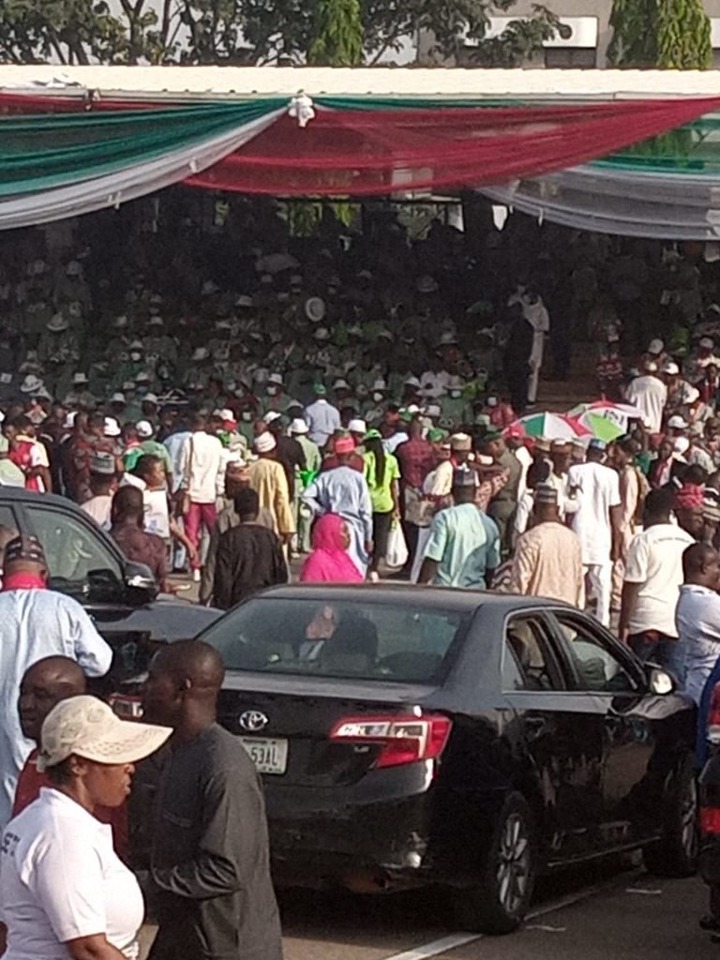 Kwankwaso supporters with their symbolic red caps and branded white clothes stole the show, chanting "kwankwaso! Kwankwaso!!" from one place to another in Eagle Square.
Supporters of the former Vice President, the 2019 Presidential candidate of the PDP, Atiku Abubakar were seen with his posters with inscriptions, "2023 Atiku is the answer," "I stand with Atiku," " 2023 Support Atiku," among others.
The supporters of former Minister of Federal Capital Territory (FCT) and governor of Bauchi State, Senator Bala Mohammed, were also seen with posters and flyers of the Kauran Bauchi for 2023. His posters also flooded most stands in Eagle Square, the venue of the convention.
Similarly, visible within and outside Eagle Square, the venue of the PDP 2021 National Convention are 2023 posters, banners of the immediate past President of the Senate, Bukola Saraki and Sokoto State Governor, Aminu Waziri Tambuwal.
The Eagle Square, venue of the convention erupted when Atiku was called to the podium to present his speech.
He used the opportunity to call on the PDP to ensure that it rescues the country from "mismanagement, bad governance, insecurity and disunity."
He also said that Nigeria has been put in bad shape by the ruling All Progressives Congress (APC) since taking over power in 2015.
The former Vice President who said that the "mission to rescue Nigeria is a collective thing," added that the PDP must position itself to "rescue and restore the dignity, security and economic growth of Nigeria."
This is as he asserted that the decision taken at the party's national elective convention would determine the country's future.
On his part, while presenting his speech, Tambuwal said that it is not easy to keep a great party like PDP united, adding that it is tough because "we are a big party that has members from across the country and with various interest and desires.
"Diverse as we are, it is however clear to me that we are at our best when we remember that we must remain focused and disciplined for the sake of our country and for the benefit of our fellow Nigerians that are across the world.
"In Nigeria, it is tough to remain an item, focused and disciplined when being an opposition party. The temptation and allure of power can be overwhelming. Some have fallen along the way."
He thanked those, who found the steps to remain focused and disciplined and do the hard work that opposition requires.
"Analysts and observers agreed that there are attempts to scuttle our activities as a party and as a people. They are people that are working to present us as weak and in disarray, but I am happy to report to the naysayers that PDP today is the strongest and formidable party in Nigeria," he said.
He berated those trying to divide and weaken the party, adding, "I am happy to report to those who want to divide and weaken us that we are winning by the grace of God."
Welcoming new comers, the Sokoto state governor and Chairman of PDP Governors' Forum, was optimistic that more people will join the PDP.
He said: "Allow me to welcome new members of our party. They are here because they want to work for a better and most Nigeria. They are here because they have realised that the PDP is the best platform to move Nigeria forward, we say welcome and we encourage other patriots and concerned Nigerians to join us in the PDP.
"We will soon be welcoming more members to our party. Our country is going through trying time. Our people are in need of policy intervention and leaders that can provide solutions to the challenges of security, unemployment rising cost of energy, food and other essential items for living a descent life.
"We need a strong and smart Nigeria that can provide the leadership that will help sustain institution capable of promoting collaboration in the areas of security, innovation, trade, investment and defence of our democracy.
"Our young people need a secured safe and enabling country that will allow them realise their desires to be educated, employ and deploy their entrepreneurship skills. They need to take advantage of their potential to make the best of the best to fulfill their ambition."