Musiliu Akinsanya, Lagos State Parks Management Committee Chairman also known as MC Oluomo, has withdrawn his threat to Igbo residents in Lagos.
While addressing supporters of the ruling All Progressives Congress (APC) at a meeting on Thursday, he had threatened Igbos who would not vote for the APC to stay off polling stations.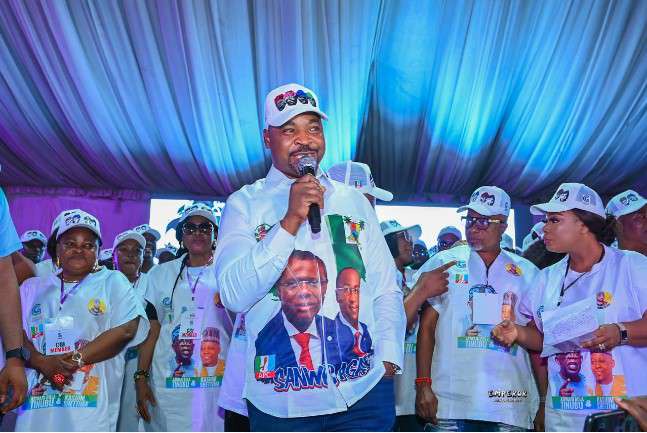 "We have begged them. If they don't want to vote for us, it is not a fight. Tell them, Mama Chukwudi, if you don't want to vote for us, sit down at home. Sit down at home," MC Oluomo had warned.
The statement had triggered a nationwide outrage, with many calling for his arrest.
Former Vice-President Atiku Abubakar had condemned the silence of President Muhammadu Buhari and the President-Elect, Asiwaju Bola Tinubu.
The Lagos State Commissioner of Police, CP Idowu Owohunwa, also ordered the Cybercrimes Unit of the Command to commence immediate and comprehensive investigation into the incident.
Moments after the CP spoke on a television programme, MC Oluomo released a video where he sued for peace.
"Good after all my brothers and sisters. My name is Alhaji Musilu Ayinde Akinsanya, at the meeting I went to yesterday, I was discussing with my sister, Iya Chukwudi. I was referring to her that Iya Chukwudi, if you are not voting for me, sit down at home and the next thing I saw was the video on social media.
"People started to mention my name; please I am always for peace; when you take a look at Lagos State there is peace; why will I say don't go out to vote, if they don't come out to vote, how will we get votes for APC to win? APC is my party; count me out of the talk going around, the person I was referring to in the video was in the meeting with me, that was why I quickly went to meet her that they said you should not go out and Iya Chukwudi is here with me."
The woman who spoke in English and Igbo described MC Oluomo as a nice person, saying he purchases food items from her.
Source: Daily Trust